Resources > BOOKS


The Never Ending Quest:
Dr. Clare W. Graves Explores Human Nature


Compiled and edited by Christopher C. Cowan & Natasha Todorovic



ECLET Publishing, PO Box 40110, Santa Barbara CA 93140
Ph 805.962.0366 Fax 805.962.0306 orders@spiraldynamics.org
Psychologists searched for their own unified field theory since Einstein's forays in quantum physics. To reconcile the conflicting theories of Maslow, Freud, Jung, Skinner, Rogers and others, Dr. Graves set out on a 30-year research project to explore and explain human nature.
By bringing compartmentalized and competing disciplines together within an integrative systems frame, Graves found remarkable patterns. He was among the first to approach psychological development from what he termed a "biopsychosocial systems" perspective. He found that external life conditions trigger psychosocially congruent internal mind capacities to create a level of existence—or worldview. Since each level of existence is a hidden, complex combination of nature and nurture, the old either/or debate was essentially moot. Personality and behavior were a both/and proposition.

The result is a work that Canada's Maclean's Magazine called "a theory that explains everything" way back in 1967. Today, Dr. Graves's book answers profound questions that psychologists, sociologists, therapists, managers, educators and others are still asking—while putting forth new intellectual challenges for them all.

Thousands of people have been introduced to Grave's work under the Spiral Dynamics® flag, yet little of his original writing has been publicly available except on our www.clarewgraves.com website. With the endorsement of the Graves estate, we spent five years compiling, editing and reconstructing the missing chapters of the major book he was writing at the time of his death; these missing chapters were reconstructed using his own words compiled from tapes and writings given to us.

We invite you to explore this remarkable work and learn where the theory came from, how it relates to other perspectives, and what this point of view can mean to the future.

________________________________________________________________________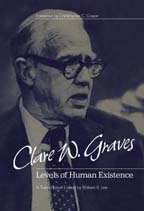 Clare W. Graves:
Levels of Human Existence
... an edited transcription of recorded notes by William R. Lee
from Dr. Graves's presentation at the Washington School of Psychiatry, 1971, with handout materials, diagrams, and data summary. Also, an authorized reprint of the classic 1970 Journal
of Humanistic Psychology article, "Levels of Existence: An Open Systems Theory of Values." Lee, Todorovic, and Cowan, eds.
Paperback, 182pp. $18.95 + shipping & applicable tax
ECLET Publishing, PO Box 40110, Santa Barbara CA 93140
Ph 805.962.0366 Fax 805.962.0306 orders@spiraldynamics.org
Order your Graves materials today!

Books

Quantity

Price

THE NEVER ENDING QUEST
(hardcover 578 pgs. 6X9) -$59.95
(Add $5.00 for US Shipping, international add $18)
CLARE W. GRAVES: LEVELS OF HUMAN EXISTENCE
(paper-bound 6X9; 182pgs) $18.95
(Add $3.50 for US shipping, international add $10)
Audio Tapes
*REFLECTIONS
2-tape set $23.00
(Add $2.50 for US shipping, international add $10)
*INTRODUCTION TO THE PSYCHOLOGICAL MAP
6-tape set $65.00
(Add $3.50 for US shipping, international add $18.)



Order these items together and save!




Order both REFLECTIONS & INTRODUCTION TO
THE PSYCHOLOGICAL MAP!
(A $13 savings) $75.00
(Add $3.50 for US shipping, international add $18)
Book & tape set - CLARE W. GRAVES: LEVELS OF
HUMAN EXISTENCE & REFLECTIONS
(a $10 savings) $32.00
(Add $3.50 for US shipping, international add $18)
Order GRAVES: LEVELS OF HUMAN EXISTENCE (book),
REFLECTIONS (audio),
INTRO TO THE PSYCHOLOGICAL MAP (audio)
(A $ 20 savings!) $ 95.00
(Add $7 for US shipping, international add $18 )


(California residents add 7.85% sales tax) TOTAL

* Foundational Materials
** Advanced Materials for Certified SD Practitioners only

If you prefer to e-mail your order, please ensure the following is included in the body of your e-mail or in an attachment. If you prefer to fax your order, please provide the following information and send to us at FAX # 1.805.962.0306 (please e-mail the correct mailing address to info@spiraldynamics.org as well.)

Name: _______________________________________________________________________
Company/organization: _________________________________________________________
Billing address:______________________________________________________________________
Shipping address
(if different from above):_________________________________________________________
Phone: ____________________ Fax: __________________ E-mail: _____________________
Payment Methods: Visa / Master Card ___ Check ___ Purchase Order # __________________
Credit Card # _____________________________ Expiration Date: __________ Total: ______
Signature: __________________________
Name as it appears on card (if different from above): _________________________________
(California residents please add 7.5% tax)

*THE NEVER ENDING QUEST (ISBN 0-9724742-1-8 hardback 6X9; 578 pgs) $59.95 + $5.00 ground shipping in U.S. - $64.95 International shipping $18
CLARE W. GRAVES: LEVELS OF HUMAN EXISTENCE (ISBN 0-9724742-0-X paper 6X9; 157 pgs) $18.95 + $3.50 ground shipping U.S. International shipping $8.00
ECLET Publishing, PO Box 40110, Santa Barbara CA 93140